Mar 16 - Mar 17, 2018
Fri 6:30-9 pm, Sat 9 am-2 pm
Pavilion
None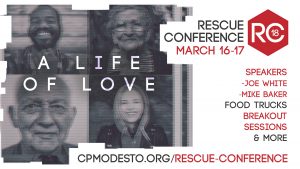 On March 16-17, we will gather  for RESCUE CONFERENCE 2018 – a two-day outreach conference designed to inspire and encourage The Church (you) to be agents of hope in the lives of people around you. We gather under the belief that God wants to release The Church in Modesto to be agents of hope and love in the world. You are an incredibly important part of what God wants to do here in our community by living A Life of Love. Come expecting to be encouraged and inspired to respond to what God has before you!
Conference Times
Friday, March 16: 6:30-9 pm (Doors open at 5:30 pm)
Saturday, March 17: 9 am – 2 pm (Doors open at 8:30 am)
Meet The Speakers
We read in Scripture of a God Who is always with us, never forsaking or abandoning His people–Immanuel. We see a God Who walked among men to bring good news where there was none. In Jesus, we see a God so in love with His children that death on a cross cannot stand in the way of hope. He brings joy to sadness, peace to the troubled and mercy to the suffering. As Jesus followers, we are called to love in how we live and with whom God brings in our path. Sometimes that path is through our neighborhoods, as you will hear from Joe White, Neighborhood Church in Fresno or sometimes that path is through difficulty or disaster, as is the story of Pastor Mike Baker, Crosspoint Church in Santa Rosa during the recent fires. Every moment is an opportunity. Wherever we are today, we are called to live A Life of Love.
EMAIL EVENT ORGANIZER
Kristine Kauffman is the contact person.