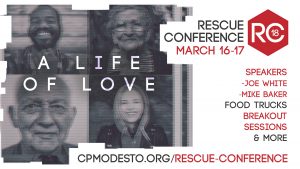 On March 16-17, we will gather  for RESCUE CONFERENCE 2018 – a two-day outreach conference designed to inspire and encourage The Church (you) to be agents of hope in the lives of people around you.
We gather under the belief that God wants to release The Church in Modesto to be agents of hope and love in the world. You are an incredibly important part of what God wants to do here, in our community by living A Life of Love. Come expecting to be encouraged and inspired to respond to what God has before you!
We read in Scripture of a God Who is always with us, never forsaking or abandoning His people–Immanuel. We see a God Who walked among men to bring good news where there was none. In Jesus, we see a God so in love with His children that death on a cross cannot stand in the way of hope. He brings joy to sadness, peace to the troubled and mercy to the suffering. As Jesus followers, we are called to love in how we live and with whom God brings in our path. Sometimes that path is through our neighborhoods, as you will hear from Joe White, Neighborhood Church in Fresno or sometimes that path is through difficulty or disaster, as is the story of Pastor Mike Baker, Crosspoint Church in Santa Rosa during the recent fires. Every moment is an opportunity.  Wherever we are today, we are called to live A Life of Love.
Meet the Rescue Conference Speakers
Joe White


Joe White and his wife Heidi are church planters in Fresno, California. Fresno is America's 7th poorest city and hosts 22 high-concentrated poverty neighborhood where over 50 percent of the neighborhood lives under the federal poverty line. Joe and Heidi serve in the Jackson Neighborhood which has an average income of $26,000 a year and 71 percent of their neighbors don't have a high school education. Joe works in the field of Christian community development which has included starting a church called, "Neighborhood Church", a small business which employs neighbors with barriers to employment, and a non-profit which meets specialized needs in their neighborhood with specific care. They have also catalyzed over 20 different ministry initiatives in the Jackson Neighborhood which seek to change the demographics of the neighborhood in the areas of education, teen pregnancy, safety, and economic well being. Joe has a BA in Biblical Studies, a Diploma in Urban Ministry, a Diploma in Christian Studies, and a Master of Divinity. His passions are rock climbing, mountaineering, ice climbing, and skiing.
Mike Baker

Over the past few months, Mike Baker has seen his role as pastor and also husband and father shift dramatically.  When the Northern California Firestorm hit Santa Rosa, Mike's home was burned to the ground and his church began a new focus of ministry:  helping the community heal and cope through the power of the gospel.  He and his wife Zoë have two children, Caitlyn (8) and Zachary (5).  They now have the opportunity to walk through loss with their community, pointing them to the hope of Christ.  Mike is the Lead Pastor at Crosspoint Community Church in Santa Rosa.
Register For Rescue Conference